THINKERS present an annual list of Thinkers in the filed of management. The list looks at thinkers who have made an important contribution to management thinking in the global arena. The list is based on a set of objective metrics and input from a team of advisors led by Amit Kapoor. The Thinkers50 has 10 established criteria by which thinkers are evaluated. Some of the criteria are Rigour of Research, Presentation of Ideas, Accessibility/ Dissemination of ideas, International Outlook, Originality of Ideas, Impact of Ideas, Practicality of Ideas, Business Sense, Power to Inspire et al.
Union Minister of State for Human Resource Development, Dr. Shashi Tharoor presented India's Top Thinkers with the Thinkers50 India Award at the Awards ceremony held as part of full day conference at the Leela Hotel at Gurgaon, NCR. He also unveiled the Thinkers50 India definitive list of the most unsurpassed management thinkers from India and the inaugural issue of the Thinkers Magazine. An acclaimed platform, Thinkers50 is a one-stop platform for visionary ideas and innovation.
During his talk that followed, Dr. Shashi Tharoor impressed upon the need to create, expand and enhance the process of thought leadership across the Indian diaspora. He further added, "To create a thriving and sustainable societal ecosystem we need people who have the potential to change the world for the better. We need leaders who can lead with their visionary ideas and innovative approaches coupled with efficient and inspired management. Such leadership can have a profound influence on the world around us. It has the potential to give rise to disruptive business models and new paradigms of commerce, which in turn will have a significant impact on the world, beyond business and touch issues such as poverty, education, healthcare and much more".
The India Thinkers50 Special Awardees are as follows –
The Thinkers50 India Global Village Award – Nirmalya Kumar, Member-Group Executive Council Tata Sons & Professor of Marketing, London Business School
Thinkers50 India Innovation Award – Shared by Navi Radjou, Co-author of Jugaad Innovation & Rishikesha T Krishnan, Professor of Corporate Strategy & Policy, Indian Institute of Management, Bangalore
Thinkers50 Marketing Award – Arvind Rangaswamy, Anchel Professor of Marketing & International Business, Penn State University
Life Time Contribution Award – B. Athreya, Management Advisor
Thinkers50 India Book Award – Ravi Venkatesan, Author, Corporate Leader, Former Chairman Microsoft India & Cummins India.
Thinkers 50 India Future Thinker Award – Srivatsa Krishna, officer of the Indian Administrative Service (IAS), & currently a PhD Research Scholar at the Indian Institute of Technology, Madras
The Thinkers50 distinction was selected based on the votes of peers and corporate leaders. The Thinkers50 India will select the best of the foremost management thinkers every year in addition to thinkers in the area of Arts, Culture, Entertainment, History etc.
Management thinkers who made it to the prestigious Thinkers50 India definitive list include Nirmalya Kumar, Gurcharan Das, Kiran Karnik, Vineet Nayyar, Nandan Nilekani, Arun Maira, Deepa Prahalad among others.
"The Thinkers50 list has gained global recognition as the only ranking of leading business thinkers. Being placed on this list is a tribute to these leaders/thinkers and their role in the transformation of major corporations across the world and for their ideas that have extended beyond the business world to address the complex and pressing issues of our times", said Dr. Amit Kapoor, Editor-in-Chief, Thinkers & Curator of Thinkers50 India.
The Thinkers50 India event, which was a daylong conference brought together under one-roof people and leaders whose ideas will strive to change the quality of business leadership. The event hosted some of the world's most exciting and insightful thinkers who discussed and shared new ideas and thoughts to address challenging issues and forge new paths and in the process create an ever-widening circle of thought leadership.
Prominent speakers like Arvind Rangaswamy, Mohanbir Sawhney, Pankaj Ghemawat, Marshall Goldsmith, Nirmalya Kumar, Kevin Stolarick, Wilfired Aulbur, Pranjoy Guha Thakurta, et al from business and management shared their thoughts at the event on August 30, 2013.
Leading Thinkers in Management | 2013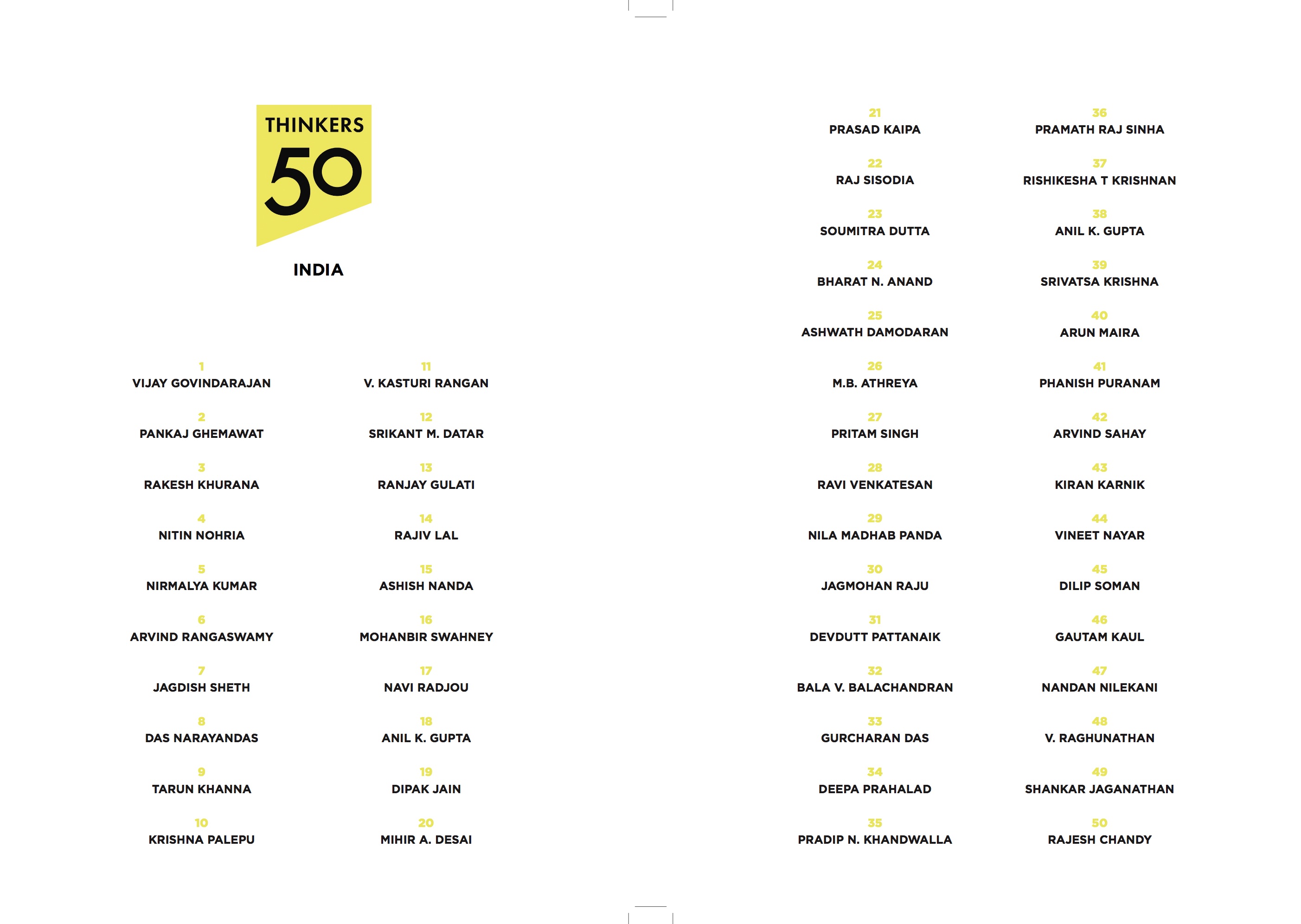 The list of Management Thinkers was supported by Maverick.
Release Pictures