The Ecosystem of Poverty: Lessons Learned from the $300 House Project
By Christian Sarkar and Abhijit De
The authors have illustrated an "ecosystem of poverty" showing how poverty is caused by a range of issues that create a vicious cycle of failure and how these problems are all interrelated. They have also offered an integrated development approach to fight poverty at scale while tackling all of the root causes of poverty simultaneously.
"Poverty is a socio-political construct that perpetuates itself over generations, with the complicity of ruling powers – governments, businesses, and institutions."

"If India cannot solve the challenge of poverty in a sustainable way, then the world is in serious trouble."
At the end of this year, we will learn that, as a global community, we will have failed to attain of the Millennium Development Goals (MDGs). Our cities keep growing. UN HABITAT tells us that each day a further 120,000 people are added to the populations of Asian cities, requiring the construction of at least 20,000 new dwellings and supporting infrastructure. In Latin America and the Caribbean current housing needs are estimated at between 42 million and 52 million dwellings, respectively. Estimates concerning total housing needs in Africa have been set at around 4 million units per year with over 60 per cent of the demand required to accommodate urban residents.
There are many lessons to be learned from studying the history of poverty – to try to discover what has really worked and what has not. It's critical we see what is actually happening on the frontlines – to learn what businesses, NGOs, and governments, and intergovernmental institutions are doing to combat this ancient disease.
Let's ask:
What is the definition of poverty? Why should it matter?
Where do the poor live?
What are the root-causes of poverty? Does aid work?
What is being done to fight the problem? What are the different approaches?
What can we do to address the illness of poverty?
By attempting to answer these questions, we may begin to see poverty for what it is – a socio-political construct that perpetuates itself over generations, with the complicity of ruling powers – governments, businesses, and institutions. What matters now is what we do about it.
Definition of poverty
This may sound technical, but it's worth understanding in order to see what the current institutional thinking is. From UNESCO, we learn that in pure economic terms, income poverty is when a family's income fails to meet a federally established threshold that differs across countries. The international standard of extreme poverty is set to the income of less than 1$ a day (in 1996 US dollars). In 2008, the World Bank raised this bar to $1.25 to recognize higher price levels in several developing countries than previously estimated.
Thus by definition, someone earning $2 a day is not subject to extreme poverty. This sort of definition is just short of ridiculous, but for argument's sake, it gives us a benchmark. It matters when we are trying to compare standards of absolute poverty across nations. According to the UN, roughly 1.2 billion people across the globe remain in extreme poverty based on this simple measure.
The poverty paradox
Studies show that most of the world's extreme poor no longer live in the world's poorest countries.
In fact, half of the world's poor live in India and China, a quarter of the world's poor live in other middle-income countries such as Pakistan, Nigeria and Indonesia, and the remaining quarter of the world's poor live in 35 low income countries.
UN HABITAT reports that in some cities, up to 80 per cent of the population lives in slums. Fifty-five million new slum dwellers have been added to the global population since 2000. That said, we can say this – as goes India, so goes the world. If India cannot solve the challenge of poverty in a sustainable way, then the world is in serious trouble.
Add to this the problem of refugees – people displaced by conflict. There are more refugees in the world today than ever previously recorded — and more than half are children. Nearly 60 million people were counted as forcibly displaced in 2014, according to the Office of the U.N. High Commissioner for Refugees (UNHCR). According to the UNHCR, UN agencies, NGOs, the Red Cross, no longer have the capacities and the resources to respond to such a dramatic increase in humanitarian needs.
Poverty is a wicked problem
It is not caused by one factor or even a few. Rather, poverty is caused by a range of issues that create a vicious cycle of failure. We've tried to illustrate this with a caricature of the problem – "the ecosystem of poverty" – to try to demonstrate how these problems are interrelated. There are other forces at play as well that we didn't capture in the chart such as cultural and social biases, racism, prejudice, and other forms of discrimination, along with the mindset and attitudes of individuals.
Aid – at least the kind that the West has given to Africa – doesn't work. William Easterly, a leading expert in development, goes so far as to state that over $568 billion has been spent on aid to Africa, and yet the typical African country is no richer today than 40 years ago. The evidence suggests that aid results in less democratic and honest government, not more.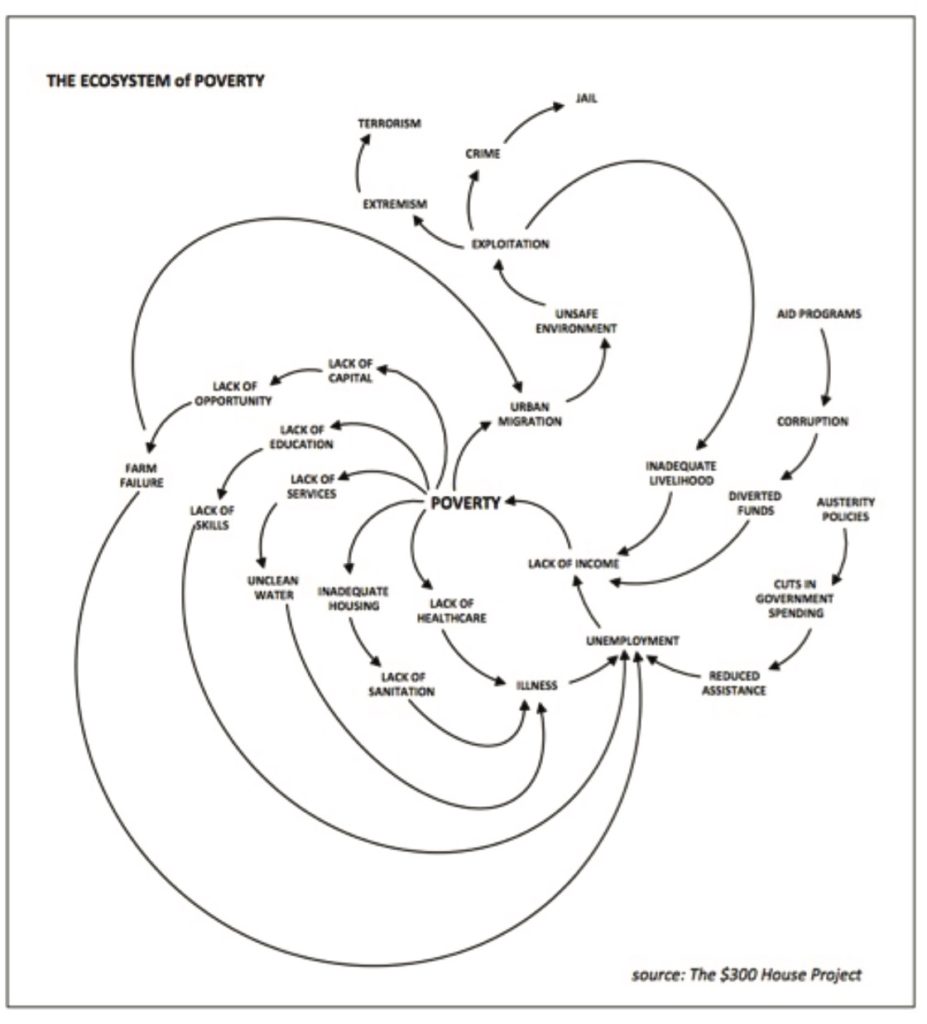 Approaches in the War on Poverty
Paul Polak, author and entrepreneur, tells us that one of the main causes of poverty is the lack of money. His goal is to find ways to allow the poor to earn enough new net income to move out of poverty — permanently. The key to success in his efforts is to harness the energy of thousands of small village-based enterprises to act in their own self-interest by manufacturing, marketing, and installing radically affordable, income-generating tools. Polak also teaches us that "you can't donate your way out of poverty." There simply isn't enough money to go around.
Another panacea that has been touted, especially in the last decade, is microfinance – that giving tiny loans to poor people to help them build businesses is a way to reduce poverty. Unfortunately that may not be the case. David Roodman, author of the new book Due Diligence and a senior fellow at the Center for Global Development in Washington, tells us: "the best estimate of the average impact of microcredit on the poverty of clients is zero."
Others, like Esther Duflo and Abhijit Bannerjee co-founders of the Abdul Latif Jameel Poverty Action Lab at MIT, have a different notion. They recognize that the poor are not poor solely because they lack income. According to Duflo and Bannerjee, one effective approach is offering participants a "productive asset" (an asset that generates income, such as livestock or supplies to sell in a small store), training on how to use it, healthcare to keep them healthy enough to work, a small amount of food or money to support themselves while they learned to make a living (so they didn't have to sell the asset immediately, merely to eat), access to a savings account to build up a buffer for future emergencies, and weekly coaching in areas like overcoming unexpected obstacles and meeting their savings goals. This approach is far more challenging to deliver, and yet has seen dramatic results – for example, for every dollar invested in India, participants spend and eat $4.33 more.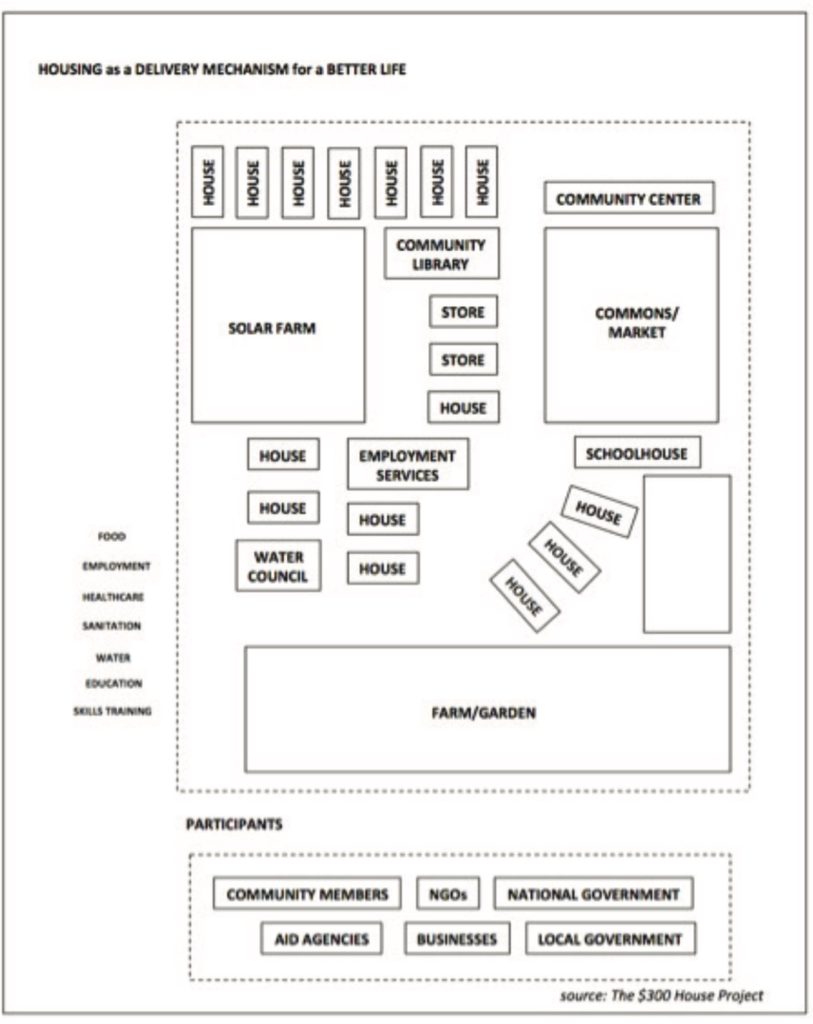 But does this approach scale? Hardly.
What Must Be Done
Of all the methods available, to fight poverty at scale requires an integrated development approach – tackling all of the root causes of poverty simultaneously.
What if the key to fighting poverty was to use housing as a delivery mechanism – to deliver not simply shelter, but all the essential services and utilities required for a better life?
For rural villages it means building a new sort of eco-village with renewable energy at its center –driving the energy needs of the community. This is not a far-fetched dream. The Solar Electric Light Fund (SELF) has been building these "solar development village" projects in Sub-Saharan Africa. In Benin, the organization is transforming 44 villages in a remote district:
1

Water

2

Food

3

Health

4

Education

5

Enterprise

Description
Solar energy powers purification pumps and filters delivering clean water to communities
Solar energy powers water pumps which enable drip irrigation for critical crops
Solar energy powers health clinics allowing use of key equipment, lighting, & vaccine refrigeration.

Solar energy powers schools to enable computers and Internet access
Solar energy powers local entrepreneurial and community activities
Process
SELF provides assessment, training, installation and follow-up
SELF provides assessment, training, installation and follow-up
SELF partners with a local health organization (e.g. Partners in Health)
SELF provides assessment, training, installation and follow-up
SELF provides assessment, training, installation, follow-up and micro-lending
For urban slums, it means renovation and upgrading. There are concrete success stories of this approach in Latin America. In general, these urban slum upgrade projects follow a participatory process that should demonstrate, according to UN HABITAT guidelines, the following characteristics:
A willingness to harness the positive forces of sustainable urbanization through the implementation of inclusive and rights-based urban policies.
Adopting a citywide, participatory approach to slum upgrading, aligned with city development plans, activity engaging relevant stakeholders in the process of implementing phases aimed at addressing one or more of the five slum deprivations: lack of safe water, access to sanitation, durability of housing, overcrowding, and security of tenure.
Ensuring no unlawful, forced evictions of slum dwellers will occur in the target neighborhoods.
Devising tangible and direct strategies to empower disadvantaged communities living in slums by allocating 10 per cent funding to community-led development interventions.
Implementing programs based on the good urban governance principles of transparency, accountability, participation and decentralization.
Mobilizing local, national and international resources sufficient for slum upgrading activities whilst understanding that domestic resource mobilization is the key to scaling up slum upgrading.
Demonstrating commitment towards slum upgrading through national budget allocations and co-financing of pilot projects.
Pursuing participatory slum upgrading strategies taking into consideration the rights and needs of slum dwellers, including their right to the city, adequate housing, accessibility of urban basic services and participation in decision-making processes. The rights-based strategies will target diverse community groups, including particularly women and youth.
Adopting a results based-management approach for the design, implementation and monitoring of national goals identified in all its phases.
One such example is the Un Solo San Pedro project in Mexico – a slum renovation project led by the mayor of San Pedro Garza García, who is attempting to narrow social differences between the poor and the wealthy in this suburb of Monterrey.
The work ranges from the redevelopment of public spaces, opening of a new library, wiring and fixtures in the colonies, paving various streets to support concrete roofing and painting homes. Houses were redone, to provide proper roofing and strong roofs. A church was built as part of the community. Special care was given to create common areas of beauty and rest to enable residents to take pride in their neighborhood. The work benefited 80 families in the community. The transformation has significantly reduced crime, created a stronger community, and given the residents pride in the homes – creating a valuable asset for their future.
New Business Models
An important approach that is seeing greater adoption is the hybrid business model, where NGOs, businesses, city planners, and governmental agencies collaborate with community leaders and participants to achieve the goals of the project. Projects may have a different funding model, based on the phase of the project. Land tenure may be a governance issue, solved by municipal authorities that make space for affordable housing. Businesses involved in the design and construction should involve locals in the building process, as well as utilize as much local materials as is feasible.
What can we learn from these projects?
Finally, here are some takeaways from our research with the $300 House Project. Development should be integrated – solutions for sanitation, water, education and healthcare must be built into the plan of the community. Employment is crucial. How do we create meaningful, salaried jobs within the community? Improvements cannot be based solely on charity, but must include contributions from the residents. Businesses have a crucial role to play by providing expertise and treating the poor as customers, not charity cases. Sustainability and affordability go hand-in-hand. If it isn't affordable, it isn't sustainable. A project management approach makes all parties accountable, as long as there is open communications and budget and schedule transparency. Hybrid business models are increasingly delivering real value.