Using Reframing, Design & Business Model Thinking to Lift the Bottom of the Pyramid
By Maarten Koomans
New business models can change everything, but are you prepared to leave your assumptions at the door? The author argues that by using the process of reframing, design thinking and the application business model canvas, we can flip our reality and create new realities. Fast.
"The heart of change comes from developing the capability for real understanding of 'what is', the ability to see what is hidden, to reframe your vision and then move forward."

"It is important to understand what the key design criteria are that we have to aspire to in designing a new business model."
Everyday we can be amazed by developments that challenge how we look at our world. How we work (Wework), how we travel (AirBnB), how we pay (Square), how we move (Uber), listen to music (Spotify), measure our health (Proteus), how we learn (KhanAcademy). Change comes from all sides and all angles. It is no longer enough to think that we can easily 'fix' what we do, how we service our customers, in order just to keep doing what we are doing. When you have just recovered from the newest, latest innovation, that rocked your world, there is the next. So what do you do?
You want to disrupt too. Before you are disrupted. Right? Well, good luck with that. Because however great that sounds, it is shortsighted and also impossible. The heart of change comes from developing the capability for real understanding of 'what is', the ability to see what is hidden, to reframe your vision and then move forward. More then often we disallow ourselves to use of different lenses to see multiple realities. Understood. Because our realities are complex and our vision often blurred or biased.
Understanding what drives the change. Understanding changing contexts, i.e. markets, customers, technologies, will help you discover new priorities and interactions of your (potential) customers. Research shows that the future health consumer does not want to go to a hospital or clinic for a check-up or (minor) treatment, when it can be done at home and by themselves. So, why do we insist on maintaining our hospital infrastructure? In the 1990's and 2000's, when developing and emerging markets wanted everyone to be able to have access to phone services, did they put telephone lines in the ground? No! They went straight to mobile. Instantaneous eradication of constraints and the creation of value! The disadvantage was flipped into an opportunity. Simply by reframing the challenge.
Leaving constraints behind. It was fascinating to learn that Fortis Healthcare, in Delhi, India, delivers value to patients by providing access to highly specialized care in remote areas by deploying intensive care units with minimal personnel and maximum telemedicine remote support. By reframing the operational assumptions for providing optimal specialty care remotely. Could the average US- or European-based hospital adopt the same type of mindset? Difficult.
The story of Praxify, a Pune based startup gone Silicon Valley, was build around the notion of a patient-centered, cloud-based, integrated, menu-driven, practice management and EMR system. Driven by the need to cater vast volumes of patients, doctors needed to reduce patient facing time from 3 min to 1 min; it reframed how to look at patient-doctor-hospital relationships. And designed a, no typing, iPad/cloud-based system. Neglecting many –old-school based- constraints. And now it is seriously challenging incumbent EHR-software companies, changing the business model using technology to helps to organize around patients.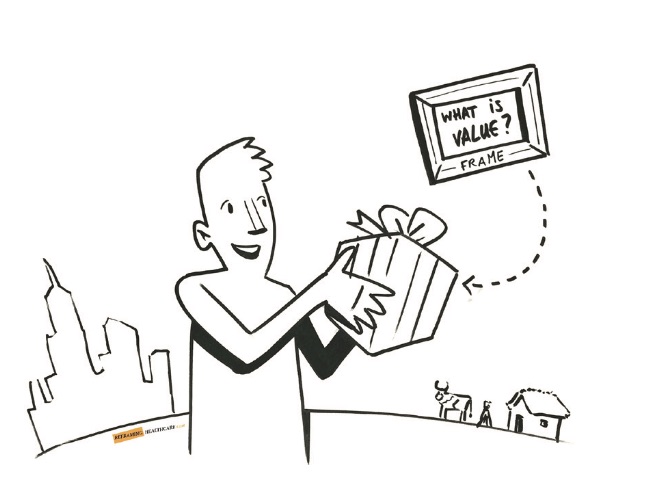 So, change (or disruption) starts with reframing. But how?
Design thinking is one of the ways that can help you reframe. Its starting point is to focus on the expressed and latent need of your current customers and their dissatisfactions. Adopting new ways to see what is in front of you are often hard to develop. It means that you have to start observing first, question your assumptions, simplify complex relationships and interactions and then create your opinion. When you have limited options, combined with high levels of urgency, one way of reframing is considering a cost effective way of creating affordable products and services using limited resources (jugaadinnovation.com). From understanding the 'what is?' the possibility generating question of 'what-if?' should be described in simple terms or visual sketches. When you have devised a number of 'what-if?' possibilities, the proof of the pudding is asking your customers what 'wows' them. Thus narrowing down the number of possibilities to the few that matter. Focus. Capturing the process and the value comes from seeing 'what works'! By experiments, we cannot only start to get small-scale results, but also pivot towards real accepted and scalable businesses.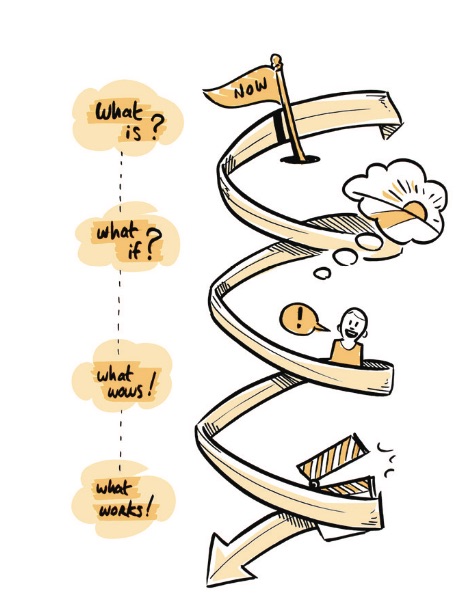 In that journey, Design tools can help. Designers believe that you have to show people, not tell them; tell a great and compelling story why change is needed, and create a vivid image of the future. We use different tools ranging from journey mapping to visualization to prototyping to assumption testing. The application can range from ideation to customer panels, and from crafting business strategy to implementation. One of the latest additions that can accelerate the thinking about, the conversation on and the pivoting of problems and solutions is the New Business Model thinking. It uses a canvas that combines unique elements that can help you reframe and innovate. The business model thinking uses nine-boxes to craft your business model, is enriched with visualizations to guide conversations, and opens a whole new array of possibilities. Unlocking the potential of understanding how the nine elements work together (the mechanics of the business model) can start new conversations on what works or what fails. To ensure the speed of acceptance and change we use visualization where we can: we call it "change through drawings".
So, let's draw your business model. Business models look at how businesses create, deliver and capture value. True. But first it is important to understand what the key design criteria are that we have to aspire to in designing a new business model. Three questions are key: Is there a need? Can we deliver? Are they willing to pay?
In the developing countries low income and thus price points become major design criteria, as do access to services (geography) and number of customers to be served (volume). Let's use these to start thinking about the nine building blocks. Basically you can start anywhere, but most logical is to start describing or innovating the Value Proposition.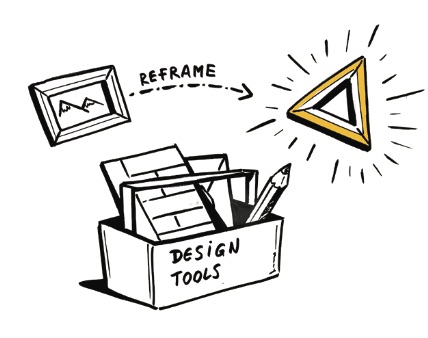 Aravind Hospitals created a model that stood out in offering cataract surgery McDonalds-style for free in remote villages with the lowest infection rates in the world. That's their value proposition. Being able to help more people then anyone (volume), at a low price point (free) by cross subsidizing, and provide access in remote locations through the use of eye-camps. With the help of the WHO they were able to keep the cost structure low by producing their own lenses. This business model gained strength to also involve a proposition for charity organizations that supported the hospital. Their revenue model to attract funds was linked to the success of the hospital. Their grants to the hospital enabled free surgery, eye-camps and the setup of manufacturing of lenses.
By visualizing this model it also became apparent that the same value proposition could be applied to different customer groups, both paying and non-paying customers. And how their respective roles reinforce the outcome for patients.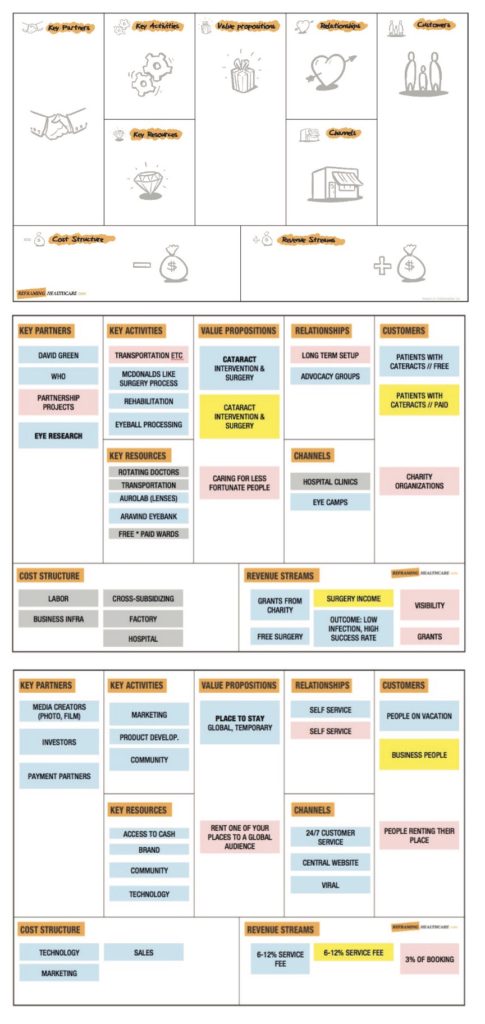 Micro-finance and mobilizing communities have been drivers that led to great business models; access to rural markets for incumbent fast-movers, by creating income generating capabilities for underprivileged rural women (Hindustan Unilever). Reframing the view of the incumbent of what their proposition was, eg. not selling products, but access to income first, enabled their customers to buy their products later.
The design criteria for offering these sustainable propositions combine community based solutions with new ways of financing or changing the finance relationships. Interestingly enough these same design criteria also apply to Unicorns like AirBnB (see figure) and Uber. Creating person-to-person community based relationships with direct 1:1 payments and effortless access is the foundation for both their business models. They both basically offer only the platform technology to make it happen and it happens because they understood the real and hidden need of their identified customer groups. They based their solution on three design criteria: volume, access and price.
This structured, creative and visual approach to shaping, analyzing or innovating business helps fuel the conversation and creativity between stakeholders. It creates a shared language. One might ponder: Do we currently communicate based on the same mental model? Probably not, but can we create insight into and leverage the different mental models to create a common future? Seen both from the developing and developed world perspective? Yes.
Is the Aravind-model ideal? I do not know. The reframing question would be: What building block or combination thereof would you analyze first, to challenge or to innovate the model? For example: Can we define more distinct groups of patients with more specific needs? Or apply it to different disease areas!
So now, what if?
What if we would develop new value propositions and business models that increase the outcome for patients by 50%, and lower the cost of healthcare by 50% where doctors and patients are in control? Can we first take the "channel-perspective' (building block) and see how we can use the second or third digital revolution being caused by e-health (and mobile health) in combination with the current platform thinking to change the proposition in the healthcare value chain? Carve out specific customer groups with new health-revenue levels, and new cost structures? Let's say an Uber for healthcare that focuses on health and not disease, an AirBnB for health, where customers choose low cost solutions when it fits their requirements? Or a business model aimed at water and sanitation that ultimately pays off in lowering the need for healthcare in rural areas.

Can we again go straight to mobile? Leave our assumptions, and current framing behind?
How would you do that for healthcare? What assumptions would you challenge? What role do you see for the hospital of the future, compared to our health of the future? I would not build hospitals. Support self-management, community care; low cost, high technology intervention; separation of place and distance. Just to name a few design criteria. Creating new business models for healthcare begins with creating value propositions that make sense to patients with real outcomes that support them in their decision processes, in their life choices.
To learn and progress from our mutual experiences we need to be able to reframe our view and the use of different design criteria and dare to ask "what if". Let go of our assumptions. Start with one of the building blocks of the Canvas and start the conversation. That is where all good business models designs and innovations start.
And now? Action. I would engage in the design of experiments that will shape new business models that would question your assumptions and then push for implementation, aside all limitations that hold you back. Use the canvas to translate the insights from your reframing exercises to create unstoppable progress. Start reframing and designing your business model, and dare to pivot!